UNKNOWN SAILOR INFORMATION ADDED
TO SYDNEY VIRTUAL MEMORIAL
Not all of HMAS Sydney's 645 men went down with the ship and were lost. The Foundation and the Naval Association of Australia are pleased to provide information about the discovery and remembrance of the Unknown HMAS Sydney II Sailor ... read more
FINDING SYDNEY FOUNDATION DONATES TO MEMORIAL
The Finding Sydney Foundation and the Australian War Memorial today announced that all video and photographs from the sea bed, showing the wrecks of HMAS Sydney II and HSK Kormoran will be donated to the Australian War Memorial ... read more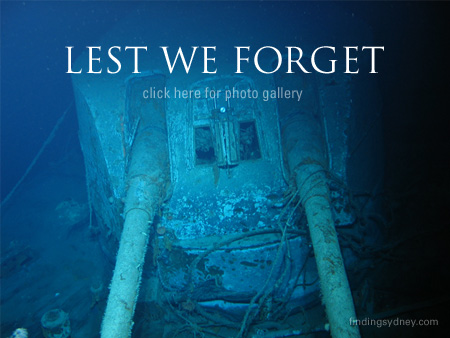 DVD PHOTOGRAPH OFFER TO RELATIVES & SHIPMATES
A DVD slideshow of photographs of the wrecks of HMAS Sydney II and HSK Kormoran is being made available to the families of the men lost in November 1941 and shipmates who served in the ship prior to her tragic wartime sinking. Click here for further information, Request Form here in PDF format (free Reader).
VIRTUAL MEMORIAL LAUNCHED
In conjunction with the Naval Association of Australia the Finding Sydney Foundation has launched a Virtual Memorial to the crew of HMAS Sydney II, click here to view the website
SEARCH FOR THE HMAS SYDNEY (II) REPORT
AVAILABLE FOR DOWNLOAD
The Finding Sydney Foundation is pleased to advise that the report
on the Search for HMAS Sydney (II) can now be downloaded from our Press Room
ROV VIDEO FOOTAGE AVAILABLE
The first footage of the HMAS Sydney (II) and the HSK Kormoran in 66 years is
now available to view on the internet
WRECKAGE PHOTOS NOW AVAILABLE
Our gallery of photographs of the HMAS Sydney (II) and the HSK Kormoran
has been updated and is now available
please also view the current Search Diary for commentary
HMAS SYDNEY (II) IS FOUND
The wreck of missing Royal Australian Navy light cruiser HMAS Sydney (II) has been found.
Read the Media Release and Search Diary Entry from the Finding Sydney Foundation.